Measurable Goal: Lose 40 lbs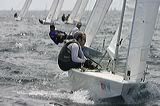 Last summer I sailed on a Star. The nice thing about sailing a Star at the club/regional level is that the boat is not that physically demanding. Some Star sailors might disagree, but it just doesn't take that much effort as a crew to trim the tiny jib, adjust the backstays and droop hike, compared to sailing in smaller dinghies. Sure, the stakes are a bit higher in a Star; if you screw up a gybe in a dinghy you might lose a few places in the race...in a Star, if you forget to cleat the new windward backstay as you cross the boat then the mast will go over the bow. In the Star, I had plenty of strength and enough coordination to do everything I needed to do. It would have been nice to be able to lift myself out of a droop hiking position without using the deck handle (OK...grabbing the backstay) but hiking itself doesn't take much effort in a droop harness. Being a big Star crew was fun, but I need to get back to driving a boat and my most likely ride is a Laser.
To sail a Laser properly again I will need to gain alot of endurance and lose alot of weight. So to this end I joined a gym that is around the corner from my office. To start off with I am planning to do at least 30 minutes of some sort of cardiovascular exercise 4 times per week(either on the machines at the gym or running outdoors when the weather gets nicer). I am also going to do some basic circuit training using the weight machines at the gym initially and then adding more free weights into the routine as I become more comfortable with weight training again. As the routine develops I will post details here. In addition, I am going to build up some sort of core strength routine to build abdominal and back strength. I have a meeting with a personal trainer next week, so I will ask him more about what I should do then.
Please add comments with any tips or suggestions.